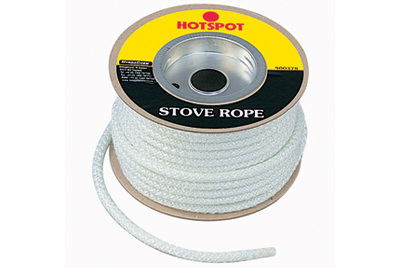 Stove Rope and Adhesive
Fire rope with an effective adhesive is an essential product if your stove door or stove glass is not sealing anymore and the rope is worn. It is an essential item used for the purpose of sealing between joints in high temperature environments such as between stove doors and in between joints of flue systems.
We have a huge range of rope available to suit any type of stove with sizes from 3mm to 25mm available.
To apply fire rope:
- Make sure all surfaces are free from dust, oil or any other contaminant.
- Lightly abbrase the surface to increase the surface area and allow better adhesion.
- Apply the high temperature adhesive to all surfaces.
- Apply light consistent pressure to all surfaces that require adhesion.
- Secure the components in place and allow the glue to dry and harden for 24 hours before use.