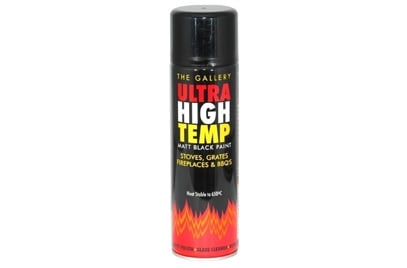 Stove Paint
Your stove is exposed to tremendous heat from the fire that burns in the stove. As a result the lustre of paint on the stove fades away and slowly the paint can decolourize. As a result there comes the need of painting the stove. What paint can be used on stoves? Only extremely high temperature stove paint can be used on stoves.
We have a huge range of stove paints that are manufactured specifically for stoves. Stove paint is the only solution if the surface of the paint will be subject to high temperatures. This paint offers a fine finished look. Simply rub down the stove with fine paper and spray the paint straight onto the stove.
We have two varieties of stove paints in our inventory. One is high temperature paint which works well on surfaces where temperatures heat up to 650 degree Celsius and the other one is called gas vent pipe paint which works on surface temperature of up to 120 degrees.
The huge ranges of colours available match nearly 99% of the stoves used in homes today. That is why these paints are used by the leading manufacturers of stoves in the UK as their standard factory finish. This stoves paint is fast drying and provides long lasting effects.