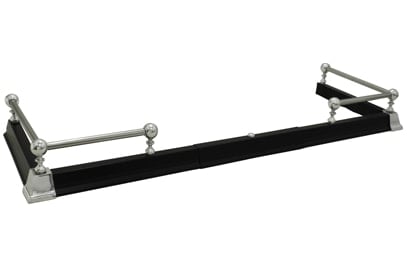 Fireplace Fenders
The fireplace fender is a must for any hearth as they not only protect the floor and surrounding areas from debris, ash, and solid fuel but also improve the aesthetic look of the fireplace. These fireplace fenders come in a variety of designs, shapes, sizes and colours to meet individual tastes.
We have a wide assortment of fenders available in different designs, some traditional, some modern, and some a little in between. Some of the finishes include (but are not limited to); brass, antique brass, black, brushed stainless steel and chrome with a combination of other finishes. You will just love our collection and will find a fender perfect for the fireplace in your home.
You can custom order with us according to the size of your hearth, note that any fender that says "3 pieces" in the title is not available in a custom size. Although these fireplace fenders come in standard sizes that fit most hearths they do not fit all hearth areas. In this case we can take custom orders for such fire fenders. For custom sizes, click here.
The hearth fenders mark the boundary between the floor and the outer edge of the hearth. Fire fenders serve two purposes as already stated above – the small vertical raised hearth on which the fender is placed acts as boundary to catch the falling debris and the second purpose is to provide a decorative trim for your fireplace.