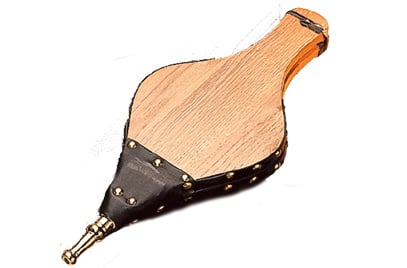 Fireplace Bellows
An essential item for any fireside, fireplace bellows help one give extra puff of air to the fire for quick and easy lighting. They are typically used for the fireplaces that use solid fuel and are not required for gas fireplaces as these ignite gas at the click of a button. A simple small compression of about 12" of the fire bellow will produce enough oxygen to the fire for a quick ignition.
Today you can find fire bellows that are stylish and also enhance the decoration of the fireplace although most designs are quite traditional. The functional design of the fireside bellow is simple – it consists of a flexible, valved air chamber that usually expands and contracts to force the air through the nozzle, the contraction and expansion requires manual force by your hands.
We have an extensive assortment of wooden and oak bellows available in a range of sizes and finishes to suit your fireplace.
Browse the collection and find the perfect fireplace bellow for you.